Nashville Workplace Race Discrimination Lawyer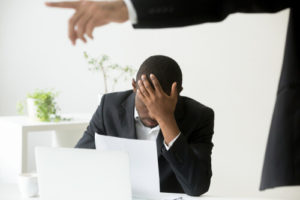 In Nashville, both federal and Tennessee laws make it illegal for employers and businesses to discriminate against workers on the basis of race or color.
Race discrimination in the workplace occurs whenever an employee is subjected to an adverse employment decision, such as being terminated, demoted, disciplined, or failure to be hired or promoted among other actions. Employees who are subjected to a hostile work environment based on race may also be victims of race discrimination.
If you or a loved one believe you may have been the victim of race discrimination at work, we understand how hurt and angry you feel. Our attorneys have a great deal of experience in race discrimination cases. We know how important it is to hold the employer accountable for their actions if they were illegal.
Call or contact the Employment and Consumer Law Group today to schedule a free, no-obligation consultation.
What Is Racial Discrimination?
The U.S. Equal Employment Opportunity Commission defines race and color discrimination as "treating someone (an applicant or employee) unfavorably because he/she is of a certain race or because of personal characteristics associated with race (such as hair texture, skin color, or certain facial features). Color discrimination involves treating someone unfavorably because of skin color complexion."
Race discrimination can also involve treating someone unfairly because that person is married to or otherwise associated with another person of a certain race or color.
Racial discrimination in the workplace is prohibited by federal and state law. The law forbids employers from engaging in discrimination in any aspect of employment, including hiring, firing, pay, fringe benefits, work assignments, promotions, layoffs, training, or any other term or condition of employment.
Racial discrimination can also involve harassment based on a person's race or color. This includes racial slurs, offensive remarks about a person's race or color, or the displaying of racially offensive symbols or slogans.
Although simple teasing and isolated remarks typically don't rise to the level of harassment, if comments and remarks are frequently made or are severe in nature, they can constitute a hostile work environment.
Examples of Race Discrimination at Work
Several examples of potential race discrimination in employment include:
Inappropriate comments or jokes about an employee's race or race in general
Referring to employees of a particular race using slang or code terms
Assigning employees of a particular race to different (usually less desirable) job duties
Taking adverse employment action (such as imposing discipline or reassignment) against an employee on the basis of his/her race or due to association with someone of a particular race
Refusing to hire prospective employees of a particular race
You should know that courts have held that merely insensitive comments or teasing, even if offensive to most people, may not rise to the level of unlawful workplace discrimination. However, where such conduct is frequent or severe enough, it may be deemed by a court or jury to constitute racial discrimination.
Because the dividing line falls into such a gray area, it's important to contact a knowledgeable lawyer at the Employment and Consumer Law Group to determine if your experience rises to that level.
Tennessee Racial Discrimination Laws
In Tennessee, at the state level, the Tennessee Human Rights Act prohibits employers from engaging in discrimination on the basis of race (in addition to religion, creed, color, sex, age, and national origin).
The law generally applies to all public employers and all private employers with eight or more employees, including employment agencies. In certain specific circumstances it may apply to employers of less than eight.
It prohibits an employer from refusing to hire, discharging, or otherwise discriminating against a person based on a protected characteristic, or limiting, segregating, or classifying individuals in any way that deprives them of employment opportunities or adversely affects their employment status.
Furthermore, it's illegal for any person or employer to retaliate or discriminate against a person because he or she opposed a discriminatory practice, made a charge or filed a complaint, or participated in any way in any investigation or proceeding under the Act.
Federal Race Discrimination Laws
At the federal level, the primary law against racial discrimination in employment is Title VII of the Civil Rights Act of 1964. Title VII prohibits discrimination against any person in employment on the basis of race, color, religion, sex, or national origin, and applies to any employer with 15 or more employees.
In order to file a lawsuit under Title VII, an employee must:
File a charge of discrimination with the state or federal Equal Employment Opportunity Commission office. The charge must be filed within 300 days of the discriminatory action (or the last discriminatory action if part of a pattern of continuous, ongoing discriminatory conduct).
The EEOC could decide to institute a lawsuit based on your charge or issue a right-to-sue letter at the end of the investigatory period. An employee who receives a right-to-sue letter must file their Title VII complaint within 90 days of receiving the letter.
When to Contact a Nashville Race Discrimination Lawyer
Consider reaching out to a Nashville race discrimination lawyer at the Employment and Consumer Law Group if:
You have been passed over for a job or promotion by an employer who consistently hires or promotes people of a different race from you, or declines to employ or promote people of your race.
You and co-workers of the same race have been assigned less desirable work or other workers of a certain race have been afforded more desirable assignments.
You have been subjected to repeated and/or severe incidents of race-based comments, slurs, and taunting.
You have reported concerns about race discrimination in your workplace to your supervisor or your employer's human resources officer/department and no action has been taken.
You have been retaliated against (such as receiving unfavorable work assignment, demotions, decreases in pay or benefits, denial of promotions or pay raises, or termination) after making complaints about potential race discrimination in your workplace or after participating in investigations or proceedings for allegations of race discrimination.
All initial consultations at the Employment and Consumer Law Group are free and confidential. Contact us right away to schedule yours. There's no obligation.
Other Types of Workplace Discrimination
In addition to race-based discrimination based on race, other types of workplace discrimination are illegal under various Tennessee and federal laws. These include:
Religious affiliation or belief
Age discrimination, particularly discrimination against workers age 40 and older
Disability or perceived disability, including the failure to provide a reasonable accommodation for a disability when requested by the employee
National origin or requirements that employees must be able to speak English to do his/her particular job
Citizenship status, although employers can and must confirm an employee's authorization to work in the United States
Sex or gender, although gender identities and gender expressions may or may not be protected
Pregnancy
Family status, or whether a worker is married and/or has children or other dependents
Discrimination can take the form of harassment, creation of a hostile work environment, failure to hire or promote, demotion, reassignment of job duties, failure to assign favorable tasks or assignment to unfavorable tasks, granting unequal pay and/or benefits, or retaliation.
How the Employment and Consumer Law Group Can Help You
No one should put up with discrimination in the workplace. If you suspect that your employer has engaged in racist practices, you have every right to hold them accountable for their actions.
At the Employment and Consumer Law Group, our attorneys will conduct a thorough investigation into your claims. We can help you to follow your employer's grievance procedures or contact your employer's human resources department to file a complaint. Many instances of race discrimination in the workplace are caused by individual employees and can be corrected once the employer is advised that discriminatory conduct is taking place.
Our lawyers can also help you submit the relevant paperwork needed to initiate a formal EEOC investigation. If you receive a right-to-sue letter, our diligent legal team will prepare a strong case on your behalf that shows how your employer's actions were discriminatory.
Questions? Call or contact us online today to get answers in a free consultation.