Kentucky Workplace Retaliation Attorneys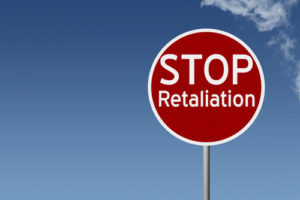 As a worker, you are afforded numerous rights under both U.S. and Kentucky state law. Among them are the right to work in an environment free of discrimination and harassment based upon characteristics such as sex, race, and disability, and to work in a safe environment. You also have the right to assert those rights without fear of your employer retaliating against you for doing so.
If you experienced illegal workplace retaliation you may be able to recover compensatory and punitive damages from your employer for their violations of the law. A knowledgeable employment lawyer at Employment and Consumer Law Group can help you put a stop to the illegal retaliation you may be facing at work.
Retaliation: Are You at Risk?
If an employee raises a complaint based on an employer's violation of the law – informally, or through the Equal Opportunity Employment Commission, Kentucky Human Rights Commission, Occupational Safety and Health Administration, or other government agency – that employee may be at risk of workplace retaliation.
Employers are usually familiar with the prohibitions against illegal discrimination and the requirements of federal and state law as it pertains to business operation. But many are less familiar with how they must conduct themselves when faced with accusations that they have violated those laws.
Challenging the illegal practices of an employer inevitably creates tensions in the workplace, and those tensions may lead some employers to take action against employees who raise concerns or file complaints. This may be for the purpose of deterring that employee from pursuing concerns through official channels, or simply out of spite. In either case, such adverse employment actions can form the basis of an illegal workplace retaliation complaint or civil action.
Retaliation can take the form of termination, demotion, discipline, reassignment, harassment, reduction in pay or benefits, or reduction of hours. But a host of other adverse actions — even those that may seem slight, such as increased scrutiny or poor performance evaluations — can form the basis of a workplace retaliation claim if they are motivated by an employer's retaliatory intent.
Documenting Workplace Retaliation
If an employee raises complaints about an employer's illegal actions, it is important to start documenting both the employee's own performance and how they are treated. Retaliatory intent can be difficult to prove, but being able to demonstrate that an employee's performance in the workplace has not changed while treatment of that person did, can help build a strong case.
The same tips hold true if an employee is asked to participate in an investigation or proceeding against an employer for their illegal conduct, even conduct that the employee did not raise concerns about. The same laws that prevent retaliation against individuals who speak out against illegal workplace conduct also prevent retaliation against individuals who participate in inquiries about such conduct.
How a Kentucky Workplace Retaliation Lawyer Can Help
Employers often hold the livelihoods of their employees in their hands, but this doesn't give them the right to silence their employees when it comes to exposing their illegal conduct. Laws prohibiting workplace retaliation are a critical part of preventing workplace discrimination and other forms of illegal employer activity, and they exist to make sure you can work and speak without fear.
If you believe you are the object of workplace retaliation, contact a Kentucky workplace retaliation lawyer to help you build your case. We will help you document illegal workplace retaliation, file your complaint with the appropriate agency, and go to court to achieve the justice you deserve if necessary. Contact us today for a consultation about your case.