Types of Employment Law Cases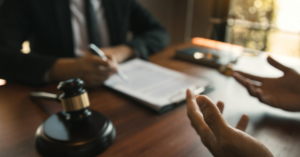 As a Tennessee employee, you have a right to expect fair and respectful treatment from your employer. Unfortunately, not all employers treat their workers well, and sometimes their actions break the law. If an employer discriminates, withholds pay, or retaliates against you, you could be eligible to take legal action against them under state and federal employment laws.
At the Employment and Consumer Law Group, we know how challenging workplace disputes can be. We're here to seek justice for you. Unlike some law firms that handle many different practice areas, we've built our practice to focus solely on employment law and consumer rights. With decades of combined experience, our tough employment attorneys have the resources and knowledge necessary to enforce your rights and push for results that matter.
If you're dealing with an employment matter in Tennessee, don't be afraid to assert your rights. We'll stand up for you. Call or contact us today for a free case review with a trusted employment lawyer.
Kinds of Employment Law Cases
What is employment law? Put simply, employment law covers federal and state rules and regulations governing the workplace. Hiring practices, discrimination, harassment, overtime pay, termination procedures, and workers' rights all fall under the category of employment law.
Some of the most common cases our lawyers handle include:
Discrimination: Sadly, workplace discrimination happens all the time. Employers routinely discriminate on characteristics such as race, age, sex, and many others, even though it's against the law. The Equal Employment Opportunity Commission (EEOC) handled over 70,000 discrimination cases in a single recent year. Many of those complaints turn into employment lawsuits.
Wrongful Termination: When an employer fires you, they must comply with the law to ensure they don't violate any contract for your employment. They can't fire you based on protected classes such as race, color, national origin, religion, age, and others. They also can't fire you in retaliation for you exercising your rights.
Unpaid Overtime: We all deserve pay for our work hours, including overtime. But unfortunately, employers sometimes take advantage of workers and don't pay them properly. To avoid paying fair wages, they may resort to sneaky tactics, such as misclassifying employees as independent contractors. If something similar happens to you, you may need to speak with an employment attorney about your options for getting what you're owed.
Workplace harassment: Harassment is unwelcome activity based on a protected class such as race, color, sex, religion, and more. While many workers experience harassment in the workplace, some try to ignore it and get on with their jobs. But harassment is illegal under federal and Tennessee labor laws. If you're the victim of past or ongoing harassment, taking legal action against those who are responsible may be appropriate.
Sexual harassment: This form of harassment can range from unwelcome sexual advances to physical or verbal harassment. It may also include harassment based on the sex of the worker. While many workers and employers understand how damaging this behavior can be, some workplaces do nothing to stop it. The EEOC handles thousands of sex-based harassment employment law cases every year, including nearly 12,000 in a recent year alone.
Severance negotiations: If it's time to leave a company, your severance agreement will be important. It may lay out how much you're paid, which stock options or pension plans you receive, and what benefits you may get. Many workers simply accept the first offer from their employers and assume that it's the best they can get, but that's not always true. Getting an employment lawyer involved can help ensure a fair deal.
Whistleblower claims: Whistleblowers provide the government and investigators with vital information about their employers' illegal activities. But employers may retaliate against a whistleblower by harassing them or even firing them. Thankfully that's illegal under employment laws such as the False Claims Act, the Sarbanes-Oxley Act, and the Dodd-Frank Act. If you're the victim of retaliation after speaking out, an employment attorney can protect your rights.
If you've experienced any workplace problems that you believe may be against the law, it's worth contacting an employment lawyer right away to determine your legal rights.
Talk to a Nashville Employment Lawyer
The Tennessee employment lawyers at the Employment and Consumer Law Group are committed to holding employers accountable for actions that harm workers in our community.
We understand how stressful it can be when an employer or co-worker blatantly violates your rights in the workplace. That kind of treatment can cost you opportunities, benefits, wages and even harm your mental and physical well-being. But just remember, you aren't alone.
Our tough-nosed attorneys are ready to answer your questions and help you find the best path forward. Call or contact us today for a free consultation.