Memphis Whistleblower & Qui Tam Attorneys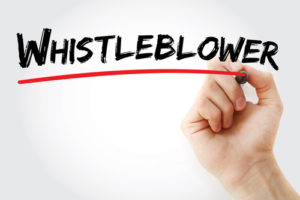 Whistleblowing is protected conduct that covers various situations when employees come forward to reveal unlawful activity in the workplace. When companies are engaging in illegal or discriminatory actions, public policy dictates that a person who reports or refuses to engage in such activity should be safe from retaliation.
Despite these protections, blowing the whistle is one of the most prevalent reasons for wrongful termination lawsuits in Memphis.
Experienced attorneys at Employment and Consumer Law Group have represented whistleblowers in Memphis who suffered retaliation for exposing their employer's wrongdoings. These wrongdoings may consist of violations of financial laws, anti-discrimination statutes, wage and hour violations, unsafe working conditions, or other illegal activity. Call today to set up a consultation with a skilled Memphis whistleblower lawyer.
What is a Whistleblower?
Whistleblowing may provide a recognized exception to Tennessee's employment-at-will doctrine. Under the employment-at-will doctrine, a Memphis employee can be fired for just about any reason – but they typically may not be fired for reporting or refusing to remain silent regarding their employers' illegal activity.
Employees are often the first to know about unlawful actions within an organization. For this reason, the law protects and encourages whistleblowers to come forward when they witness unlawful operations. Speak with one of our experienced Memphis attorneys to learn more about your rights.
Federal Protections
The False Claims Act is a federal statute that applies to companies who contract with the government and they make false statements in their claims to be paid under the contract. This includes false claims under Medicaid, Davis Bacon, pharmaceutical companies, financial reporting, and construction fraud cases. When an employee brings an action under the False Claims Act, they are in effect initiating a lawsuit on the government's behalf. As a result, the government may decide to join in the case.
The Civil Rights Act of 1964 protects employees from unlawful harassment and discrimination based on their race, color, religion, national origin, gender, or sex. Filing a claim for discrimination or harassment based on these characteristics, including sexual harassment, is a protected activity for which an employee cannot be retaliated against.
The Fair Labor Standards Act is the federal law setting out minimum wage and overtime responsibilities of employers. Filing a lawsuit or claim under this act, hiring a Memphis whistleblower lawyer to represent you for a claim under this act, or even just asking your employer about unpaid minimum wage or overtime are all protected activity. Your employer may not retaliate against you for taking part in this protected activity.
Testifying or participating in an investigation or lawsuit under these laws is also a protected activity. Again, an employee may not be retaliated against for engaging in protected activity under these laws.
State Law Protections for Employees in Memphis
State laws such as the Tennessee False Claims Act, the Tennessee Medicaid False Claims Act, and the Tennessee Public Protections Act protect whistleblowers in cases where they stepped forward in good faith to expose violations. These are comparable to the applicable federal laws.
The Tennessee False Claims Act makes it illegal to defraud the government by submitting false claims. The Tennessee Medicaid False Claims Act is a similar statute that deals specifically with cases involving Medicaid fraud. Under both these statutes, individuals or businesses may be at-fault. The objective of the Tennessee Public Protection Act is to defend workers from termination because they reported or refused to participate in illegal activities.
Employees who have experienced illegal employer retaliation may be entitled to back pay and damages, loss of earning capacity, loss of benefits, mental anguish, and others.
Recovery Available Under the False Claims Act
The recovery available in whistleblower matters alleging fraud against the government is unique from other types of legal actions. The person reporting the false claim is known as the "relator." Before a person could be considered a "relator" under the act, certain legal requirements must be met.
The government would be entitled to recover all money paid which contained false information as well as a fine for each violation which can be quite large. The relator would be entitled to a percentage of the money the government recovers as well as their reasonable attorney fees and costs. The percentage of possible recovery will be based on whether the government intervenes in the case and the level of assistance the filing plaintiff provides among other things.
The Tennessee False Claims Act is very similar to the Federal False Claims Act for monies paid by the State of Tennessee. A person would still need to be declared the relator and they would also be entitled to a percentage of the monies the State collects as a result of the false claim.
Our Memphis Whistleblowers Attorneys Fight for Your Rights
If you want to come forward to report illegal activity or if you were terminated from your position after reporting illegal conduct either internally within your company or to the authorities, we can help you. If you are unsure of whether to come forward, we are also available to provide you with an evaluation of a potential whistleblower matter.
To speak with a Memphis whistleblower lawyer about your case, call our Memphis office. We are available to meet with individuals in Memphis and surrounding areas. Call today for a free consultation.