Chattanooga Non-Solicitation Agreement Attorneys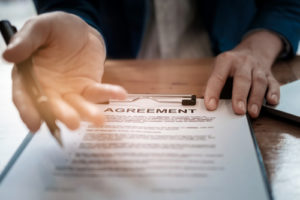 A non-solicitation agreement is a type of contractual agreement that limits an employee's ability to compete with their employer should they leave their job.
Many employees are asked to sign a non-solicitation agreement. These agreements can have a real and lasting impact on your ability to seek and secure future employment. As such, representation from an experienced employment attorney may be critical to the future of your career.
A dedicated Chattanooga non-solicitation agreements lawyer at Employment and Consumer Law Group can be a great resource to help you resolve any issues you may encounter with your non-solicitation agreement.
What a Non-Solicitation Agreement Attorney Could Do to Help
Our team has a comprehensive non-solicitation agreement practice and can help you escape the terms of unfair or illegal non-compete agreements. We have experience:
Preparing or responding to request for temporary restraining orders or preliminary injunctions
Litigating Breach of non-solicitation agreements
Negotiating terms of non-solicitation agreements
Negotiating the employee being released from a non-solicitation agreement
We help people negotiate the terms of non-solicitation agreements. We also assist employees who are seeking to avoid the enforcement of non-solicitation agreements. We can help try to have unfair non compete agreement declared invalid.
Simply put, when it comes to dealing with non-solicitation agreements in Chattanooga, our attorneys are experienced, well-practiced, and ready to help.
What is Solicitation?
In general, solicitation refers to a situation where an employee attempts to take their employer's clients to benefit themselves or a competitor after departing from their employer. Particularly in high-level positions, employees often have access to confidential information and trade secrets that can be used to entice clients to move their business away from the employer.
A non-solicitation agreement usually defines exactly what means of solicitation are prohibited, what the employee is not allowed to solicit (customer lists, etc.), and the geographic area where the agreement is being sought to be enforced.
When are Chattanooga Non-Solicitation Agreements Invalid
The core components of customary non-solicitation agreements include a restriction on your ability to solicit business within a particular industry for a specified length of time in a defined geographic area.
To be enforceable, these terms must be reasonable and necessary to protect an employer's legitimate business interest but anything beyond this could be considered invalid. Unnecessary restrictions on trade are widely disfavored, and unfair non-solicitation agreements may be held as unenforceable if a Chattanooga lawyer challenges them effectively.
Disputing the Enforceability of Non-Solicitation Agreements
When disputes arise regarding the enforceability of a non-solicitation agreement, it is up to the courts to decide whether the agreement should be enforced by analyzing the facts of each individual case. There is no blanket rule that is conclusive, each case is different and will depend on your particular set of facts. That is why it is important to discuss the matter with an experienced employment attorney.
When non-solicitation agreements are enforceable, a court could issue an injunction ordering you—the employee—to cease the conduct the employer claims is in violation of the agreement.
In addition to an injunction, you may also be responsible for damages to compensate the employer for any loss suffered to their business.
Working with a Chattanooga Non-Solicitation Agreement Attorney
We respect that every employment relationship is different and that the same solution will not resolve every case. As such, we adapt our approach to reflect what is best for you to protect your business and professional reputation moving forward.
Our attorneys represent clients in Chattanooga and surrounding areas. If you are interested in working with us, please feel free to reach out to a Chattanooga non-solicitation agreement lawyer with our firm today.